Calling All Army Reserve Netballers
THE VERY FIRST ARMY RESERVES INTER-UNIT NETBALL CHAMPIONSHIPS 2016 – SAT 15 OCT 16

Maj Bowes-Crick, Lt Hockenhull, Capt Ralhan. All members of the Army Reserves and part of the AMS team, winners of the Army Inter Corps Championship 2016.
Player of the Tournment OCdt James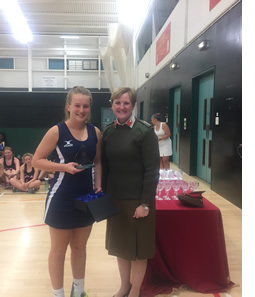 RESERVES NETBALL
It has been a busy month for Reserves Netball all starting with the inaugural Reserves tournament on 15th October at the Aldershot Garrison Sports Centre. After some last minute changes and a few teams dropping out, the day got underway with 6 teams playing in a round robin competition. Points were awarded for the win and the team that came out on top winning all of their matches was Liverpool UOTC. Queens UOTC took the runners up spot only losing to Liverpool in one of the final matches. Player of the tournament went to OCdt James from Queens UOTC. Col Lewis, the Army Netball Association Chairwoman very kindly awarded the prizes and special mention must go to Claire Murton, the ANA Secretary and Alan Flavell for helping support and run the event.
There was a great atmosphere amongst the teams, everyone playing with spirit and determination. A lot of dedication from the teams to play and get involved was clearly evident with Aberdeen traveling on the overnight coach from Scotland, Queens flying over from Belfast that morning as well as teams travelling from Liverpool, Oxford, Southampton and Nottingham. All the girls are keen to continue playing netball and are looking for other teams both reserves and regular within their areas to play matches against. Anyone interested in playing some friendlies please get in touch and I will put you in contact with one another. I am hoping to run two tournaments next year if there is enough interest to keep the momentum going. All units are encouraged to get in touch whether you have a team or just a few individuals that want to play. At this stage it's all about participation so teams can be amalgamated in order to give everyone the chance to play.
Final Results
1st Liverpool UOTC
2nd Queens UOTC
3rd 162 Regt RLC
4th Aberdeen UOTC
5th Southampton UOTC
6th Oxford UOTC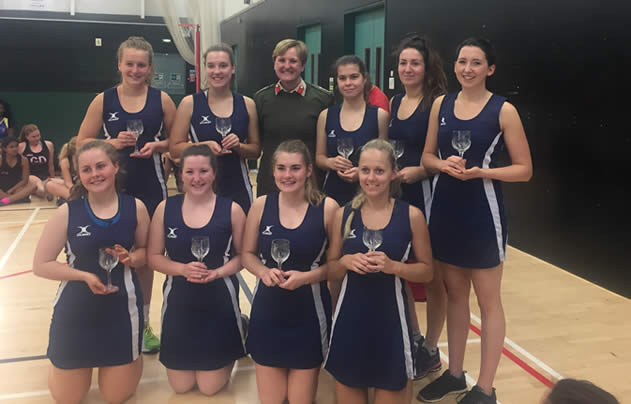 Winners of the Army Reserve Tournament Liverpool UOTC
Later in the month on 26th October the Army Inter Units Competition took place which is open to Regular and Reserve units. Last year there were 3 Reserve units entered with 256 London Fd Hosp taking the runners up spot in a highly competitive tournament. This year 167 CSR RLC were the only reserve team entered so it would be good to see a few more next year.  
This was followed by the Army Inter Corps competition with many of the teams being made up from Army team players including the odd international player! A fiercely competitive and high level competition was eventually won by the Army Medical Services who won the title for the first time in the tournaments history. This team had three reservists in it and the RLC had a reservist playing. I would encourage all of you to get in touch with your Corps Secretary's to get involved with their training and matches as this is a fantastic tournament to be a part of.
If you would like any further information about Army Reserves Netball please get in touch by emailing e_bowes_crick@hotmail.com
EJ Bowes-Crick
Maj
Army Reserves Netball Secretary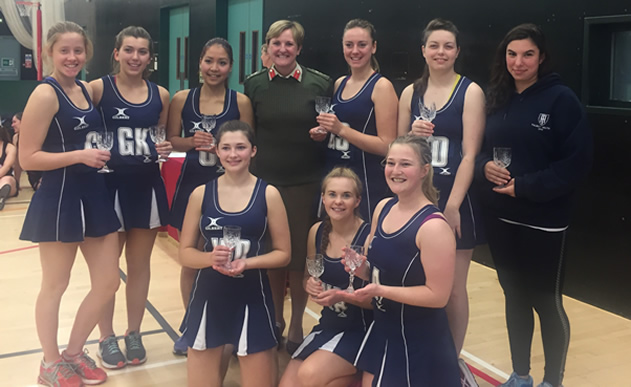 Runners Up Queens UOTC
Check out page 57 of the 'Reserves Magazine' for our Netball coverage!